Today I literally had to force myself to deal with some tomatoes. Not that it was any big deal, it's what was to follow that I was dreading. This was the dreaded hot salsa day. Really hot salsa. Screaming hot salsa.
It's my opinion that eating shouldn't be painful. I fully admit that I'm a real pansy when it comes to salsa. I like to taste the blend of flavors, not just feel the burn, you know? The earlier batch of salsa has what I'd call medium heat. But Bill's been craving hot salsa and a guy gave him a little bag of peppers - mostly jalepeno, a few habanero and a couple unknowns, but they look suspiciously like Thai Hots. If you've never had one of those - well, Bill took a teeny bite of one a long time ago. He said it made his teeth hurt, it was so hot. Here's a picture of those bad boys - I got it from farmerfred.com. Honest.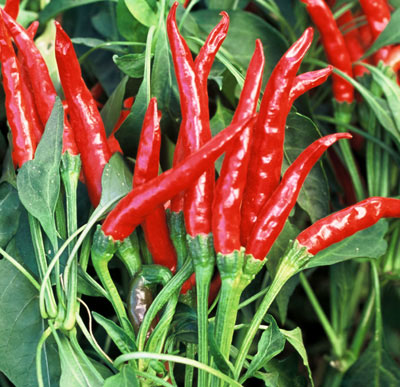 I have this love/hate relationship with my food processor. I love it when I need to chop or blend or mixitalltogetherinaflash. I absolutely hate to clean it afterwards. Especially after chopping up jalepeno peppers...or even worse, a couple habanero peppers added in with the jalepeno peppers.
What I have always done in the past:
I stand there looking at the pepper remnants in the bowl, knowing that at some point I'll have to reach in to remove the blade thing. My rubber spatula will only remove so much. Rinsing first only does so much. I know that the evil oils are still in there.....a good rinse and into the sink of soapy water it goes while I try to look busy doing something else.
Finally I take the plunge and get to washing. Wash, rinse, dry and put away. Wash hands again because there's this slow burn all over them. This time I wash up a little higher. Dry hands. More slow burn, even up a little higher. Wash hands again, even higher. Dry hands. Slow burn is almost up to my elbows now. Change towel!!!! Wash and dry hands. Bitch about it for a while. Talk about wearing gloves next time. At least it's just a once a year thing.
This year? I took a different appproach:
First thing I did was to say 'screw the food processor'. Bill likes his salsa a little on the thick side without chunks, so I always hit the cooled salsa with a stick blender before I jar and freeze it. I sliced up the onion, then cut the slices in half, threw them into the pot. The bell pepper got cut into big chunks and into the pot. The evil peppers? I carefully cut off the stems, slowly sliced them lengthwise, keeping my fingers on the outside of the pepper, and dropped them into the pot. The one habanero I just cut the stem off and threw it in. Rinsed the knife, put it in the sink so if I needed to cut up anything else, I'd get a clean one.
Now, I'm cooking the crap out of it. I want those peppers to be mush before I take the pot off the stove. After it's cooled, I'll hit it with the stick blender (they call it an immersion blender for a reason - I still change into a red shirt before making salsa or spaghetti sauce) and it should be good to go. I can't/won't do any taste testing, but it should sear Bill's taste buds off for him. With some luck, in a couple hours he'll be chowing down, sweating profusely, with a smile on his face.
Our oldest son, Dan, likes things even hotter. The medium heat salsa that I made? He asked (seriously, too!) if I had forgotten to put jalepeno's in the batch. He eats a lot of Indian recipes, most of which are totally foreign to me. I came home late one night and went scrounging in the frig. There was a big pot of some yellowish, chicken and rice and herby type looking stuff. I stabbed a chunk of chicken and ate it. Man, that stuff was good! I was aiming for a bowl and spoon when the heat hit. Holy Momma! That stuff just lit me up! It burned for a long times afterwards, too. I'm glad he was already in bed. He would have enjoyed it a little too much. :o)
Oh, if you were expecting a salsa recipe, here's what I use:
For the screaming hot salsa, I just add more seeds and hotter peppers.
Two minutes after I posted this, Bill got home. He dipped two chips into the boiling hot salsa that's still cookin'....looked at me and said, "See me sweating? It's goooood!" Should be hotter after I get it all blended!
Updated the next day: After I got it blended, Bill ate some on a chip. It was hilarious! He croaked out 'Good', the best he could. He immediately got the hiccups and started sweating. Later when he could talk again, he said it was some really good stuff. LOL He must like pain.